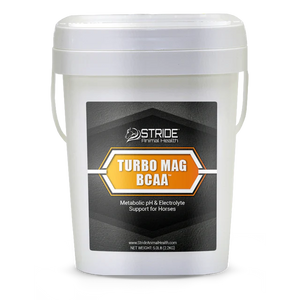 Stride Turbo Mag BCAA
TURBO MAG BCAA
A Metabolic pH Balancer for Horses. 
Turbo Mag is a quick absorbing oral electrolyte for animals dealing with summer heat, hard work, training and physical activity. Turbo Mag provides the following unique benefits:
Helps maintain proper metabolic pH.
Helps support hydration levels.
Replaces lost electrolytes.
Helps maintain normal fluid balance in blood and tissues.
Helps maintain normal concentration of minerals.
Helps maintain proper body composition.
Helps muscle function and fluid balance.
Helps replace fluid lost through sweat.
Supports healthy cellular activity.
 Key Ingredients:
Electrolytes
Antioxidants
Branched Chain Amino Acids
1 scoop = 50 g
---
We Also Recommend
---