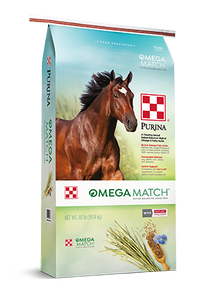 Purina® Omega Match® Ration Balancing Horse Feed
A TIMOTHY-BASED RATION BALANCER HIGH IN OMEGA-3 FATTY ACIDS.
SOME HORSES GET THE OMEGAS THEY NEED FROM PASTURE. THIS IS FOR THOSE WHO CAN'T.
Purina
®
Omega Match
®
Ration Balancing Horse Feed is specially formulated by Ph.D. equine nutritionists with ingredients and benefits inspired by feeding fresh pasture, but without the drawbacks of too many calories or soluble carbohydrates. Our limited-ingredient formula addresses common sensitivities while meeting your horse's nutrient requirements and providing the fatty acids and antioxidants naturally found in green grass. Purina
®
Omega Match
®
Ration Balancer provides a way to fill in nutritional gaps, whether your horse has a busy competition schedule with limited turnout or cannot graze green grass due to metabolic concerns. It's a great way of ensuring your horses get the nutrition they need, no matter their forage source.
Protein, Vitamin and Mineral Fortification
A concentrated formula to fill nutritional gaps common in forage or unfortified grains
Balances Omega Fatty Acid Ratios
Feeding Omega Match® Ration Balancer as the sole concentrate ration to stalled horses for 11 weeks resulted in the development of similar omega fatty acid ratios to horses on pasture.
Natural Source Vitamin E + a Full Supplemental Level of Biotin
Formulated with only a natural source of Vitamin E. When fed as directed, supports optimal Vitamin E levels and provides 15 mg of biotin to support hoof growth and repair.
Formulated Without
Formulated without soy, alfalfa, corn, wheat and molasses to support horses with sensitivities to these ingredients.
All the Goodness of Pasture Without the Guilt
Controlled starch and sugar formula with no molasses that results in minimal glucose and insulin response to feeding
High in Fat and Fiber, High-Quality Protein + Individual Amino Acids
Inspired by the protein content and quality of fresh pasture. Suitable for horses in light to moderate work.
Gastric Support
Formulated with Outlast® Supplement to support gastric health and proper pH
Acid Detergent Fiber (ADF)
Neutral Detergent Fiber (NDF)
Ground Timothy Hay, Ground Flaxseed, Ground Oats, Heat Stabilized Rice Bran Lignin Sulfonate, L-Lysine, Dicalcium Phosphate, Seaweed-Derived Calcium, Magnesium Oxide DL-Methionine, Salt, Vegetable Oil, d-Alpha tocopheryl acetate Preserved with Mixed Tocopherols, L-Threonine, Choline Chloride, Vitamin D3 Supplement Rosemary, Artificial Flavor, Vitamin A Supplement, Thiamine Mononitrate Riboflavin Supplement, Copper Sulfate, Calcium Pantothenate, Zinc Oxide, Niacin Supplement Vitamin B12 Supplement, Biotin, Calcium Iodate, Calcium Carbonate, Cobalt Carbonate Ferrous Carbonate, Sodium Selenite, Manganous Oxide
Best Results
FEEDING DIRECTIONS WITH HAY OR PASTURE
Purina
®
Omega Match
®
Ration Balancing Horse Feed can be used as the sole concentrate as described below or used in conjunction with other feeding programs as a supplemental source of omega fatty acids. For more specific guidance, contact your local Purina retailer or Purina Customer Service at 800-227-8941. 
LIFESTYLE
Omega Match®
Ration Balancing
Horse Feed (lbs/day)
Minimum Hay or
Equivalent Pasture (lbs/day)
Mature Horses (1000 lbs)*
 
 
    Maintenance
2.0
20
    Light Work
2.5
20
    Moderate Work

**

2.5
20
    Mares through 2nd Trimester

***

2.5
20
Growth

****

 
 
    4-8 months (400-700 lbs)
4.0-5.0
8-14
    9-17 months (700-900 lbs)
3.0-4.0
14-18
    18-24
2.5-3.0
18-20
* For horses that do not approximate this expected mature weight, feeding rates for mature horses at maintenance can be estimated based on 0.2-0.4 lbs Purina
®
Omega Match
®
Ration Balancer and 0.2 lbs hay or pasture per 100 lbs body weight per day.
** The additional calorie and nutrient demands of horses in more work may be better met by adding a grain or a Purina
®
product designed for performance horses.
*** The additional calories needed during the last trimester of gestation and through lactation can be provided by adding a grain or a Purina
®
product designed for breeding and growing horses.
**** More rapid rates of growth can be achieved by adding grain to the diet. However, given the inherent nutritional inconsistencies of straight grain diets, more rapid rates of gain are more safely and successfully achieved by feeding a Purina
®
product designed for growing horses.
A 2 lb meal of Omega Match®

 

Ration Balancing Horse Feed supplies a full serving of Outlast®

 

supplement.
Caution
Follow label directions. Feeding added selenium resulting in total diet levels in excess of 0.3 ppm is prohibited.
Important
Feeding rates will vary with size, age, temperament, health status, forage quality, climate and activity level. Feed at regular times, at least twice daily. Do not feed more than 0.5 lbs/100 lbs of body weight per meal. Do not feed free-choice. Prevent rapid eating by the horse of any feedstuff.
Reduce and/or delay feeding a horse which is hot, excited or showing pain, has fever or diarrhea. Consult your veterinarian if any problems arise.
Always feed a minimum of 1.0 to 1.2 lbs per 100 lbs of body weight of good quality clean hay or the equivalent in pasture.
Any feed changes should be made gradually over a period of 7 to 10 days. Changes in the rate of feeding should not exceed 1.0 lb per day for each horse.
Provide fresh, clean water at all times. Provide your horse with access to salt. Consult with your veterinarian regularly and maintain a routine dental, parasite control and health care program for your horse.
---
We Also Recommend
---