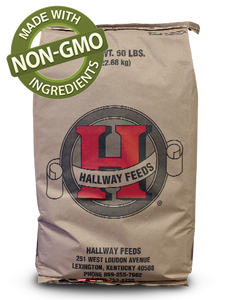 Hallway Pure & Simple Balancer Non-Gmo Horse Feed
Pure and Simple® Balancer is the only fully fortified, non-GMO balancer available. Its high inclusion rate of essential amino acids aids in increasing the topline of horses suffering from lack of muscling. High levels of biotin are found in Pure and Simple® Balancer for increased hoof strength and structural integrity while increasing overall bloom.
Vitamin E is added in all-natural form and added to the feed for antioxidant defenses. It is also vital for equine athletes for decreased muscle recovery times after an intense workout. Added vitamin C serves as another source of antioxidants to combat free radicals. Proteinated minerals are included in the ration for increased bioavailability, as well as organic selenium. Pure and Simple® also contains specific yeast cultures to provide an ideal environment to maintain a strong and healthy hindgut. A healthy digestive tract results in higher and more efficient digestion of feed, consistent performance, and overall health and wellness of the horse.
Feeding Instructions
Pure and Simple Balancer is designed to be fed with hay and/or pasture to provide a balanced diet at 1-2 pounds per day for ponies and horses. The horse should always be provided a minimum of 1.5% of their bodyweight per day of good quality forage and have access to clean, fresh water, and salt.
PROTEIN - 14%
LYSINE - 1.1%
METHIONINE - 0.35%
THREONINE - 0.75%
FAT - 3.5%
FIBER - 23%
ADF - 22%
NDF - 32%
CALCIUM - 2%
PHOSPHOROUS - 1%
COPPER - 135 PPM
SELENIUM - 2.3 PPM
ZINC - 398 PPM
VITAMIN A - 18,000 IU/LB
VITAMIN D - 4,250 IU/LB
VITAMIN E - 750 IU/LB
ASCORBIC ACID - 515 MG/LB
BIOTIN - 3.8 MG/LB
---
We Also Recommend
---