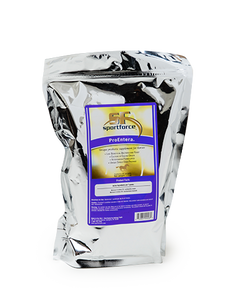 Hallway ProEntera®
In a healthy state, the horse is host to billions of micro-bacteria that maintain the delicate balance of the digestive tract. These bacteria are a critical component for absorption of nutrients from ingested feedstuffs. ProEntera® assists in repopulating and regulating these intestinal microbes when certain management concerns may be present.
ProEntera is an equine specific direct fed microbial that combines live cultures of Lactobacillus Reuterii and Saccharomyces Boulardii. Veterinary formulated ProEntera contains 10-20 times the amount of bacteria when compared to competitive products and is the only product available that is derived from equine origin.
ProEntera Powder – Dose – 7 grams/day
7 grams provides – 2.5 billion CFU Lactobacillus Reuterii & 5.0 billion CFU Saccharomyces Boulardii
Feeding Instructions
Administer one packet (7 grams) per day for all horses.
If animal's condition worsens or does not improve, stop product administration and consult your veterinarian.
Loss of Appetite

Illness or antibiotic therapy

Environmental stress

Pre and post travel

Diarrhea or colitis 

Senior horses

Dietary changes

Post deworming

Post surgery

Daily support for a healthy digestive system
---
We Also Recommend
---